Second part of our interview with Luca Gargano ...
(You can find the first part here )
Once again : sorry for the bad translation... :) If you are willing to help do not hesitate to contact me (webmaster@durhum.com) . The interview was not supposed to be translated into english, but since a lot of people asked for it... you cant complain ;p



Velier's rum are always named from the old distilleries and stills, does that means it always refers to the provenance of the casks ?
Yes. In the 40s and 50s there werent many producers (who used to sold rum in bulks) using marks (marks refers to the origine of the rums : PM for Port Mourant, VSG for Versailles, ...). I have the unique chance to taste all rums out there and make a real selection, while the other bottlers are actually buying the barrels by mail.

In Guyana you can find marks on every barrels, Port Mourant, Enmore, Albion ....
On the Diamond ones you can see a diamond drawn on the barrels.
It also helps to recognize the barrels in the warehouse.
How many marks exists ?
There are 12, 14 different marks which correspond to the stills still in activity and the styles made in the old distilleries, and maybe twenty more marks which actually are variations produced from the same column. For example, in the past they could have aged some caramel directly into the barrel, or make a blend of light and heavy rums in different proportions, which gave new 'marks'.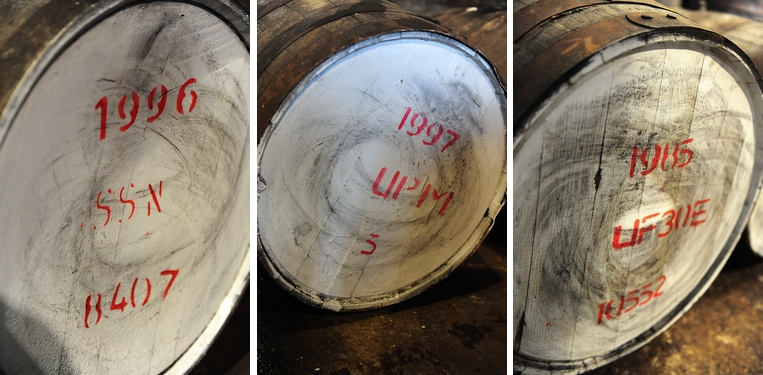 from left to right: SSN (one of Diamond's marks), UPM Port Mourant (distilled in Uitvlugt distillery) and UF30E / photo: LUCA Gargano
Could you name an exceptional rum ?
Personally I was very surprised by the rhum St. James 1885, bottled in 1952 by Lambert, who was the owner of the brand at that time. In terms of quality it's a rum which has no equivalent for me. Generally all the rums produced before the war have this same quality.

When you open a bottle of the 30s, 40s, you cant miss it and always find exceptional rums. The reason is quite simple: back in the days there was no chemistry in the cane fields, and it was fermented with natural yeasts, and the aromatic level is quite amazing. There was still long fermentations of 10, 12, 15 days. While today rum is fermented for 24 or 48 hours. And the fermentation is the most important part into the development of rum.
In fact everything changed when industrialization came and when we started to use chemical yeast, baker's yeast.
Today you have to produced rum quickly, and quality has no place here. There is a lot of interest into the rum's business these days, and when you think there's no law around it, its really dangerous for consumers.
The situation is really complex and many producers lie on their labels, about the age, the rum itself, and then people lose confidence into rums and That is really dangerous .

The best rum you bottled so far ?
Beyond the fact this is my first bottling, I would say Damoiseau 1980 ; I was really surprised when I tasted it, it's amazing.
And because this is the first "full proof" rum.

And i would say Skeldon 1973 and 1978, im in love with them!

What would you tell to someone who dont know about your rums ?
I would say this : all the rums i bottled, Demeraras or Caronis, are great rums, products that will have a high value in the future because unfortunately they are doomed to disappear.
People has to know that in four or five years Caroni will be over.
Its just the same for Demerara rums, one day people will really realize the full quality of these rums, that these rums are fully aged in the tropics, and that for example the Diamond 1981 lost 96% of its original content (the famous 'angel's share' ), then it will be probably too late to taste them. There are people who even told me they didnt bought the first Caronis because the price was not high enough. Today you have to pay 400€ for o bottle of Caroni 1974, because this is unique and you wont find it again..
For Demeraras I personally really like Diamond 1981, and also UF30E. And I would say the new Caroni 15 years (1998) , our next release, which is very very good, and also Libeartion 2012. All the Demeraras worth it, they has their own story.. For example the Albion and Enmore bottles (1994 and 1995 vintages), are the last distillation to be produced in Enmore and Albion, and it means a lot, this is the last distillation before theys moved the stills, before the distilleries closed its doors...its beautiful...
I am very pleased with my selections, I have this chance when I go to Georgetown to choose the old marks. I always look for them, but I'm sure Yesu hides them! I see his smile and then I understand ... All the stills have been moved to Diamond, but the Uitvlugt distillery still has a stock. The doors are closed, but I truly think you can find the oldest demeraras inside...
Let's talk about SKELDON... Its the best rum i ever tasted and you cant really find information about it, could you tell us more ?
I remember when I found the Skeldon 1973 and 1978 I was at the Diamond distillery with my girlfriend, and there was those barrels with a white lateral side and the bright red mark Skeldon. And this friend was just born in 1978, and at the beginning, honestly, I was like "Oh look, this is your year! "and then i tasted the rum and it was just obvious...
But the barrels were almost empty, because at the time they used to left the rums into the same barrel without refilling it into others ; so I took all the stock thanks to Yesu, and that's how I released the same year Skeldon 1973 and 1978.
Then, before bottling, Yesu sent me the usual samples for control ... and when I drank the Skeldon 1978 I did not recognized it! I phoned Yesu and told him "it may be better that what I tasted, but it's not the same rum! "he told me i was wrong but finally confessed there was not enough Skeldon 1978 in the three barrels that remained, and he decided to add some Skeldon 1973... And I got angry because I really wanted to find the same rum I had tasted out there, even more because it was the birth year of my girlfriend (laughs ).
So I left the rum for a year before to finally take it...
I recently received samples from Yesu... 15 years ago they aged two marks into the same barrel : Port Mourant (PM) and Enmore (EM). They mixed them directly into the barrel before aging. All distilleries are experimenting things, and it's very interesting, but the concept is very difficult to explain ... they are two specific things, two pieces of history. And even if it is unique, I do not know how to explain that these are two rums that have been blended and then aged, and not just blended... so i decided to not commercialise it, maybe in the future, who knows...

Our friends from Barrel Aged Thoughts wanted to know why you never released Jamaican rums?
It is quite difficult to find old barrels in Jamaica. Right now I'm about to buy 3, 4 yo Jamaican rums, to make them aged rigth there. I think it will be released in three or four years. There are wonderful rums in Jamaica, I love Hampden which still produces heavy and very aromatic rums, using wild yeast, and the result is always impressive.
I often make the link between Jamaica and Haiti . There's a lot of potential out there, if only Barbancourt had not destroyed its stills ... (note: they now use columns to produce their rums.).
There are good things but they distill to 93% alcohol, this is absurd.
They are many to do the same.
Im just saying this because they have one of the finest aging cellars in the world, with very nice and old barrels, but now they produce a product that has lost its personality.

In Haiti there is an old variety of sugar cane, a long fermentation with natural yeasts.
I sent some old Caroni barrels to make aging tests with Clairin (3 years to see the result), and I'm sure you will find some of the best rums there in a few years...
Speaking of aging , is there any ideal age ?
For me, the ideal -under a tropical climate- is 6 years.
All producers of Martinique as Bally, Clement, really aged their bottles 6 years, as a tradition.
Although Bally millésimes started very late, in the 50s it was already 6 years.
And we must not forget that these six years in the tropics means 24 years in a continental climate.
Right now I'm bottling Liberation 2012 and the result i s just perfect (5yo).

What can we expect from Velier ?
Caroni 15 years will be released soon. And later two new Caroni from 1996 (Full Proof and heavy version). And for the first time we will also release a magnum version of both (150 cl.).
And then the Liberation in 2012, and in 2 or 3 months my first blend : The Ron Papalin.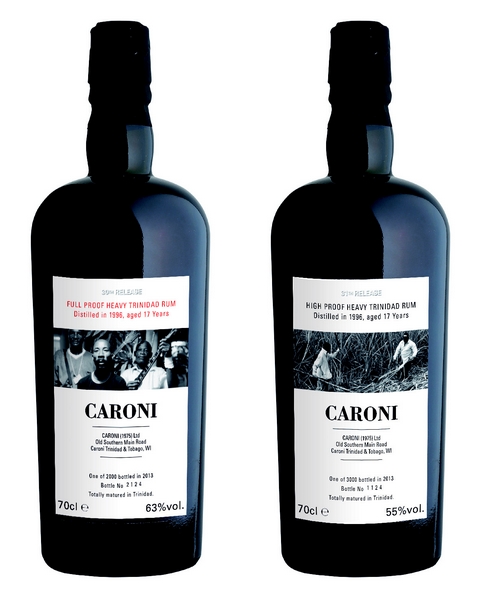 Can you tell us more about what Ron Papalin?
This is a rum that I made last year when I was bottling the Caroni 10 years in July.
I had a stock of a 3yo Cuban rum, already bottled under the name "Ultima Revolucion," from 1989/1990, a r
um that was never released because of problems with the Cuban government.
I forgot it first and when I re-tasted it I found it was really good for a 3 year old.
Besides, I also had a stock of old Venezuelan solera.
Then I said, "if I put a bit of Caroni, say 10% to give the force added to the roundness of the solera, it would make a beautiful skeleton", so I made a blend that people tried at work, they found it really good so i decided to go further...
I decided to make the blend directly into the empty barrels of Caroni and Demerara rums I bottled last year, and make it rest/married for a year in Scotland. So it is a blend of rums from Cuba and Venezuela, with 10% of Caroni, all assembled into empty barrels of Caroni and Demerara. The aim is to make something different, something easier than the Demerara and Caroni bottles, without pretending to offer an exceptional blend but a very good quality / price ratio.
And a few surprises for the future?
There will be new Clairin in 2014, and other Demerara rums. I would like to bottle next year the rarest : La Bonne Intention and Versailles.
And I'm also going to focus on Jamaica , and complete the process of Clairin, open that distillery in Haiti ...
It was the second and final part of our interview with Luca Gargano, from phone conversations between Italy and France during September and October 2013. Mister Luca Gargano Thanks for giving us the time and for sharing some beautiful pictures...